Do Standing Desks Actually Improve Health in the Office?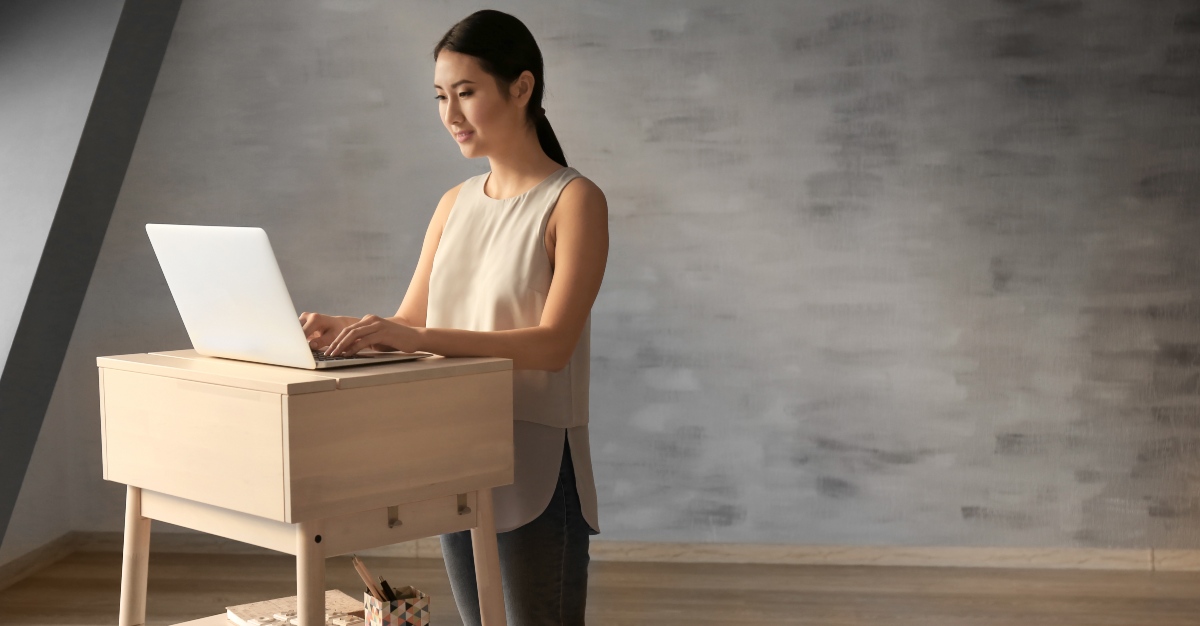 Standing desks are becoming increasingly popular, not just in the United States, but all over the world.
What is a standing desk?
The name says it all; it's a work desk that you use while standing instead of sitting in your chair. Sounds like a fantastic alternative to sitting all day, not to mention burning some extra calories, right?
But, do these new desks really improve your health while you work?
On average, people spend up to 8 hours sitting at a desk in their office. Sitting tires your back, causes poor circulation in your legs, and even mental fatigue. That's why doctors, as well as scientists, recommend that you take frequent five-minute breaks every 60-90 minutes to stretch your legs and relieve tension in your back.
One of the best features of these workstations is that many of them adjust to your height.
For employees that are unsure about committing to a standing desk, this creates an option. You can stay seated at the desk for a time or while taking a break, then get on your feet while working. Rather than sitting all day, employees can alternate while on the clock. This can better keep the body in harmony and increase productivity.
How else might these standing desks, or stand-up desks as they are commonly called, improve health?
Some speculate that you could lose weight, or at least not gain extra pounds while using a stand-up desk. But, according to a study published in the Journal of Physical Activity and Health, you burn up to 80 calories when sitting. While standing, you only burn an additional eight calories.
So, when it comes to burning calories, you're not making a significant difference. The results of the study determined that taking a half-hour walk during your lunch break is more beneficial if you're trying to lose weight. That walk will help a person burn approximately 210 more calories than a seated break.
If it won't make a large dent in weight loss, what are the other health benefits of a standing desk?
Workers with back and joint pain will notice a difference. Standing desks can greatly relieve aches in these areas. Stand-up desks even improve neck and shoulder pain, and if you're diabetic, it can help regulate your blood sugar faster after you eat. Spikes in blood sugar will also reduce if you rotate between sitting and standing.
Performing work duties while standing can also lower your risk of heart disease. Doctors know that sitting for an extended period increases your chances of getting heart disease by almost 150 percent.
The most important thing to keep in mind while using the stand-up desk is to listen to your body. Set a timer to help you keep track of when it's time to switch from sitting to standing.
When you're sitting and feel the tightness in your neck, shoulders, lower back, and hips, that's when you know that it's time to change positions and stand for a while.
The same is true as well for employees on their feet. If you notice that your leg is going numb or that you have pain in your back or feet, sit back down.
By listening to your body and keeping things aligned, you're reducing physical fatigue while increasing your creativity and working more efficiently. Both employers and employees alike may notice better efficiency with these benefits.
Looking for more information to improve health within the office? Trying to keep yourself and the business flu-free this season? Passport Health can help! Book an appointment with your local Passport Health clinic by calling or fill out a contact form.
Written for Passport Health by Sabrina Cortes. Sabrina is a freelance writer with a Bachelor's Degree from Georgian Court University. She currently lives in the Smokey Mountains of western North Carolina.