How Music Can Improve Employee Productivity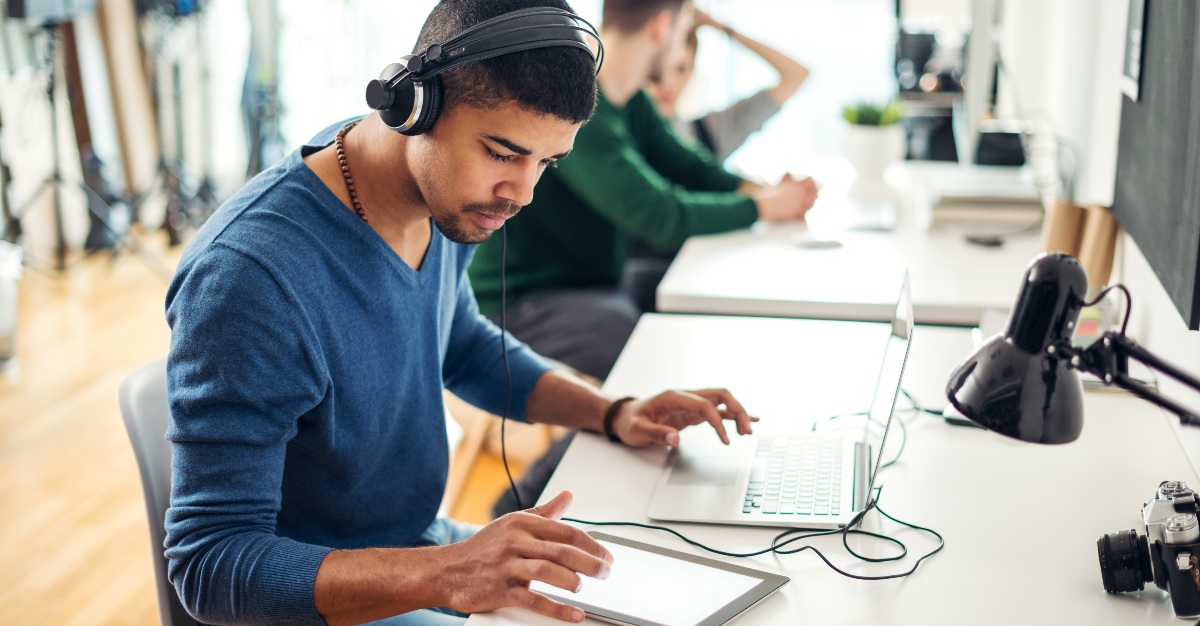 According to a survey of 1,000 office workers, 85% of those allowed to listen to music at work say that they would rather listen to songs than nothing.
But in general, do workers find music distracting or enlightening? Should managers and business owners actually encourage their employees to listen to music?
It turns out, the answer is likely "yes".
Studies show that music can release dopamine, aid memory, increase motivation, de-stress and more. In essence, this means that music can be a tool used to help employees do their jobs better. They can perform at work with greater speed, accuracy and even health.
Dr. Anneli Haake is a music evaluation consultant and the author behind a PhD for the University of Sheffield on music's effects in offices. Haake said that, "Music seems to fulfill a range of important functions for employees, including providing relief from stress, and improving concentration."
She continued: "The most common reasons for listening to music at work are to improve mood and relax. Music can also help employees to engage in work tasks, through blocking out distracting noise in the office."
Some individuals may express a concern about employees' abilities to truly focus while listening to music. Although, studies show that 88% of workers will produce more accurate work when they listen to music.
Even the type of music someone selects can make a positive difference. Genre can change their accuracy, number of mistakes and proofreading speed.
Pop music is a particularly valuable asset for those doing data entry. Studies showed that ambient music in general improved data entry accuracy in 92% of workers. But, pop music specifically helped more than half of workers do their tasks faster.
Listening to music also has proven health benefits. A person might experience improved immune function, greater memory capabilities, decreased pain and reduced stress.
Kim Innes, a professor of epidemiology at West Virginia University's School of Public, looked further into this connection. Innes coauthored a study connecting music with mental health benefits. She shared, "Both meditation and music listening are potentially powerful tools for improving overall health and well-being."
Workplace stress is estimated to contribute to about 120,000 deaths every year. It also costs about $125-190 billion a year, so taking advantage of opportunities to relieve burnout is highly recommended.
Some people may note that music's benefits are too good to be true. And in some situations, they're correct. Even with these benefits, there can be a few negatives regarding music in the workplace.
The most likely complaint would be sound which is forced on employees. Everyone around the office might not react the same toward music played by an office sound system or a colleague turning the radio up too loud.
And, as Forbes mentions, many people may consider working while listening to music multitasking. For many, that aspect can only make work more difficult and cut down on productivity.
But, music can be especially key for those working in open offices. In situations where privacy and focus are mutually scarce, music allows the listener to create an autonomous mental sanctuary through the tunes (and volume) of their choice.
Whether your workplace is open office, a standard cubicle or something else, it seems music may be a surprisingly worthwhile tool. Employees may find it helps with productivity, health and happiness in the office.
Are you looking for ways to improve health throughout your office? Passport Health can help! Give us a call at or fill out a contact form for more information.
Did you know music could have such a positive impact on the workplace? Do you listen to music at work? Let us know through Facebook and Twitter.
Written for Passport Health by Katherine Meikle. Katherine is a research writer and proud first-generation British-American living in Florida, where she was born and raised. She has a passion for travel and a love of writing, which go hand-in-hand.