How Can an Office Plant Help Physical and Mental Health?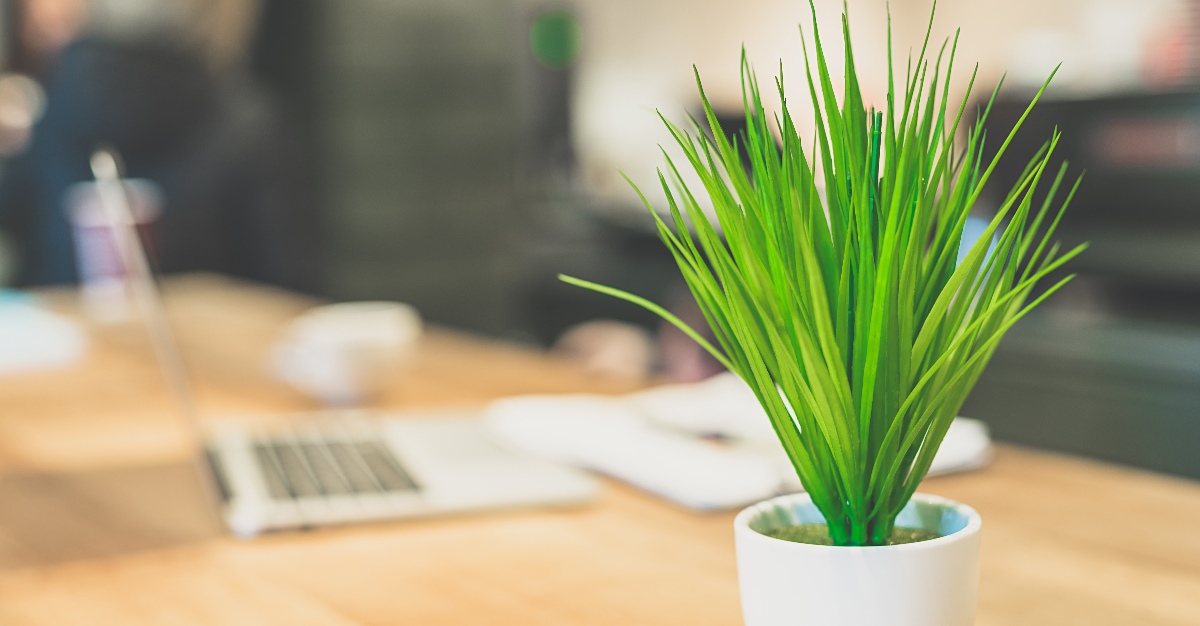 From succulents to spider plants, it's no secret that office plants make for popular workplace décor. But, it turns out there's more to them than first meets the eye.
Office workers may be receiving some extra perks as they water plants everyday. Office plants can have various mental and physical health benefits that may surprise you.
Physical Health Benefits
Better Breathing
While an obvious positive of plants is that they take in carbon dioxide and release oxygen for us to enjoy, some provide extra support for better breathing.
English ivy, for example, can easily absorb airborne mold particles and, as an added bonus, thrives under fluorescent lights. Plants like the Boston Fern act as a natural humidifier, emitting water vapor during transpiration.
Healing Assistance
Studies show that surgical patients recover faster with plants in their hospital rooms. Even if you aren't healing from an operation, take note of recorded benefits. Over time, a person might have lower systolic blood pressure as well as lower ratings of pain, anxiety and fatigue.
For more direct healing assistance, consider Aloe vera, specifically. Just break off an end and use the leaf's liquid to soothe sunburns, burns, psoriasis and more.
Improved Cognitive Function
Research done with rosemary oil show that the plant has a remarkable affect on human cognitive function. Study participants exposed to the smell of rosemary performed better on questionnaires designed to test memory and concentration.
Where does this success come from? Theories suggest it's caused by the 1,8-cineole compound, which may increase the acetylcholine neurotransmitter.
Mental Health Benefits
Taking Your Mind Off Things
As Vice highlights, gardening (even on a small scale) is good for the brain. The task is a great way to take your mind off the difficulties you're dealing with – "nurturing a plant, even for just a few minutes each day, forces you to stop and focus on something that isn't an unanswered message."
It may even lower your risk of dementia!
Relaxation and Stress-Relief
The scent of plants like lavender is known to help assuage problems such as anxiety, depression and restlessness. If you often feel stressed at the office, an occasional whiff of lavender may help to keep you calm.
Mood Influence
A paper published in 2013 looked into the human emotional and psycho-physiological responses to plant color stimuli. The results showed that: "The dark green colored plants can be used to make a place more relaxing and calming."
Considering a brighter office accessory?
"The green-yellow and bright green colored plants can be used to make a place more pleasant, exciting and brightness. Additionally, they increase a sense of strength. On the other hand, the red plants can be used in a place where high concentration are required and to create a luxurious environment."
Over the years indoor plants have become not just a design choice but an online trend, inspiring booming sales and wellness movements.
You may have office plants because you're inspired by social media or simply because you like them. Regardless the reason, you can enjoy the many benefits they offer your health.
Are you looking for other ways to improve health within your office? Still wondering if your office should book an on-site flu clinic for the height of flu season? Passport Health can help! Give us a call at or fill out a contact form for more information.
Do you have any plants at your office? Did you realize they offered so many potential physical and mental health benefits? Let us know via Facebook and Twitter.
Written for Passport Health by Katherine Meikle. Katherine is a research writer and proud first-generation British-American living in Florida, where she was born and raised. She has a passion for travel and a love of writing, which go hand-in-hand.