How to Reduce Seasonal Allergies in the Office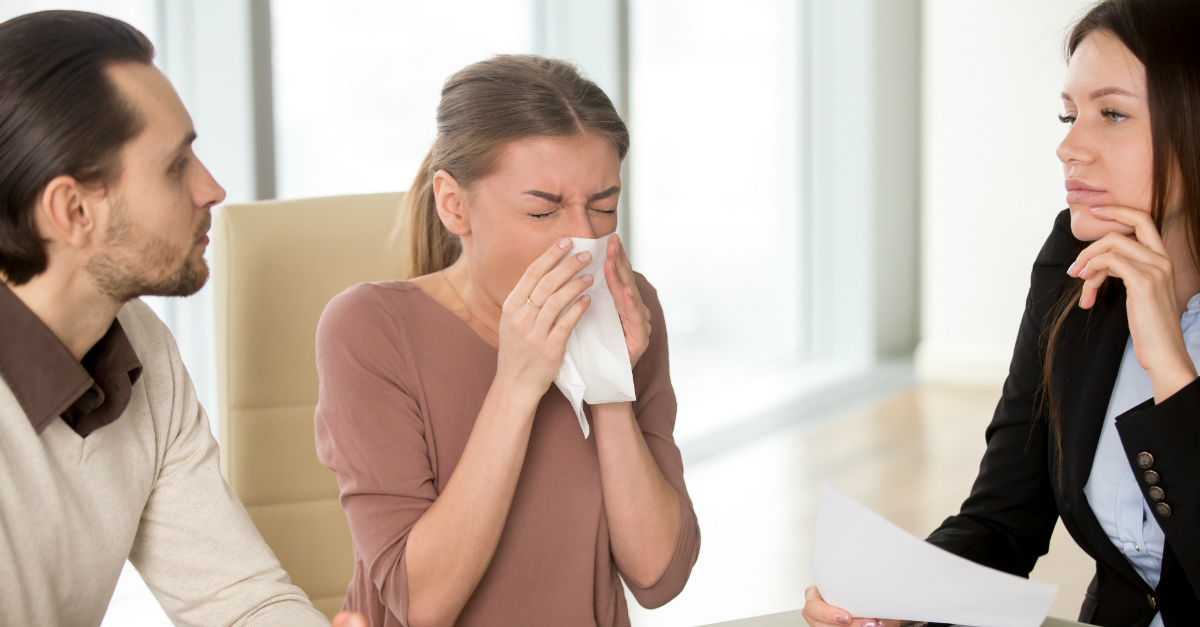 Did you know that at least 20-50 million people in the United States have seasonal allergies?
Surprisingly, many of these allergies are associated with the workplace. Individuals can become sick because of the allergens present at their job everyday. Once that happens, employees become tired, have trouble breathing, and are less productive in their work activities.
All these factors from allergens take a toll on the body and the immune system as it fights to get rid the of these invaders.
The body already works overtime to heal itself. The task only gets harder when battling dangerous particles in the air. It's estimated that over 24 million people call out of work each year due to illnesses related to allergies at work.
But, how are there so many seasonal allergies at work?
The primary trigger for seasonal allergies is pollen from trees, weeds, and grasses that are blooming. More evident during the summer, the pollen becomes airborne, leaking into your workplace with every opened door. When inhaled, even at the comfort of your work desk, the body has an allergic reaction. Even if it's small, that reaction can hamper your ability at the job.
The symptoms for season allergies can include:
Itchy, watery eyes
Runny Nose
Congestion
Sneezing
Fatigue
Coughing
Hives or Rash
How to Avoid Seasonal Allergies
The best way to protect yourself from exposure to pollen is to keep your window closed as much as possible.
If your employer permits, turn on the air conditioner. This will aid in circulating the air and trapping the pollen particles it the filter. The HVAC system will purify the air in the office and make breathing easier.
According to Web MD, another precaution you can take is to stay inside during your lunch break when the pollen count is high. You may also want to invest in a small portable air purifier with a HEPA filter for your desk or office. This will clean your specific area directly and act as one more obstacle for the pollen in the air.
But, how do you know the seasonal allergies come from your workplace?
One sure sign that you have allergens from your office is if you only experience the symptoms while you're working. Then, your symptoms disappear after you leave the office, or are away on vacation.
If you're experiencing any of this, schedule an appointment with an allergist or immunologist as soon as possible. They will test you for allergies and can confirm your suspicions.
Your doctor can also recommend when to avoid being outside when the pollen count is at its peak, as well as advise medication for the allergies. According to Humana, physicians recommend certain over-the-counter medications like Claritin and Allegra because they do not cause drowsiness. This is important for an office-worker who doesn't want to hurt their productivity at work.
Some other common triggers for allergies at work are mold, pet dander, dust mites, wood dust chemicals and cigarette smoke. Signs and symptoms should present much like a reaction to pollen.
If allergies are documented and supported by a physician, employers may need to make changes around the office. Recommended per the American with Disabilities Act, a business would need to provide a clean and allergen-free atmosphere for their employees.
Many allergens in the work environment trigger an allergic reaction. An employee who's proactive against the airborne particles can make the allergies much less of a problem. If educated, and with the right precautions, summer doesn't have to mean itchy eyes, sneezing and congestion in the office.
Are you looking for help to keep your business healthy? Passport Health can help! Schedule an appointment with your local Passport Health clinic by calling or fill out a contact form and speak to a representative.
Written for Passport Health by Sabrina Cortes. Sabrina is a freelance writer with a Bachelor's Degree from Georgian Court University. She currently lives in the Smokey Mountains of western North Carolina.