Eight Tips for Working While on Vacation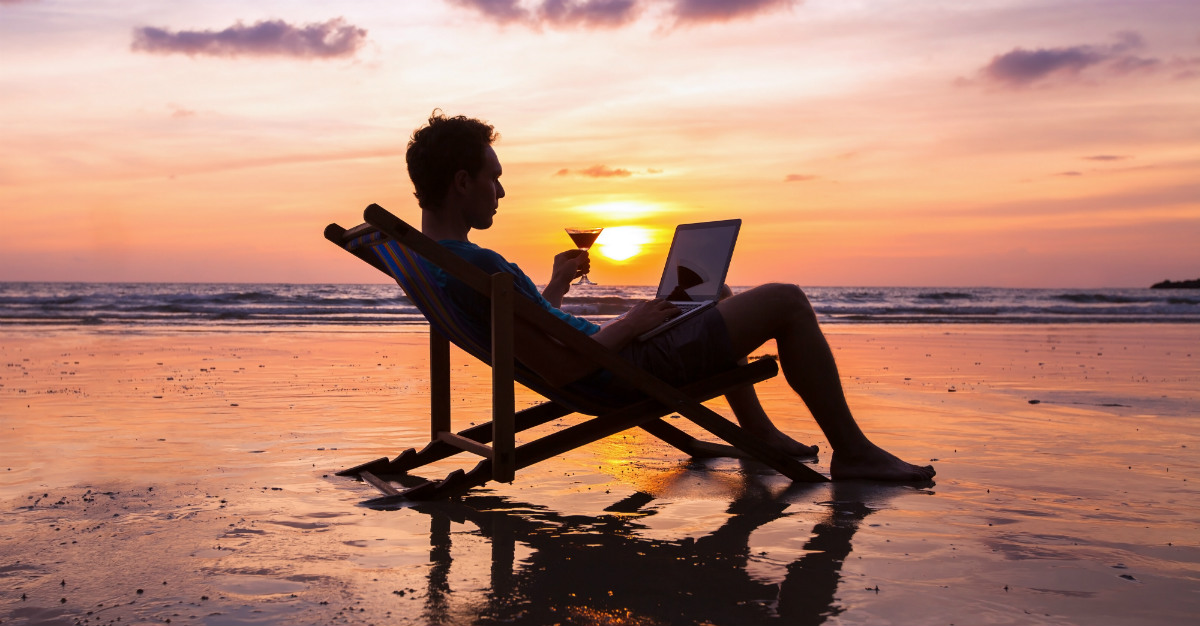 You've been working hard for the past year, and now you're in the middle of planning a well-deserved, worry-free vacation. After all, that vacation is an enticing goal for most people.
In February 2017, AAA conducted a survey and concluded that over 35 percent of American families plan a vacation every year. It's the time of the year when families across the country start planning a getaway for spring break, summer vacation, or a long holiday weekend.
Rest assured, we all lead busy lives, and it's difficult to get away from the constant demands of work life. As a result, it's difficult for some dedicated employees to leave all their work at home while traveling. While this may not be a problem for every worker, many still need to answer a few calls or emails while on vacation.
In fact, about two-thirds of workers can't escape their work life while on vacation. This is according to a recent survey from Glassdoor where 66 percent of employees in the United States admitted to some work-related activities while on vacation.
But, this need to work isn't keeping people from traveling. The same study said that the overall volume of travelers remains unchanged from last year.
Rather than sacrificing their whole vacation, workers are giving up a few hours of their trip to their job. Since this trend doesn't appear to be going away, here are some tips to stay productive (and relaxed) during your vacation:
Don't Over-Commit – In other words, don't commit to doing more work than you can accomplish while gone. Be prepared to negotiate several different work options with your boss before leaving on your trip.
Make Things Easier Before You Leave – If possible, do some extra work that you know might be needed in your absence. In case a co-worker needs help, have someone else at the company that can assist or answer questions.
Record an Out-Of-Office Reply – A message on both your phone and email can prove both helpful and professional.
Make a Small Amount of Time to Check Your Email – If you need to work every day while on vacation, set aside a specific time to respond to those emails.
Limit Your Time on the Computer – Another benefit with a set time for email responses: less time on the laptop. Instead, browse your messages briefly rather than getting caught up in the details of each message. Only respond to the more important ones.
Keep a Notebook and Pen in the Area – Vacation time can also help remove some of the cobwebs that can collect with work life. After clearing your mind, you may come upon some epiphany or new work idea. A notebook in the room can prove key to remembering that idea once you've returned.
Avoid Discussing Work – You have a break from the tiresome work life. Don't bring that stressful talk to the beach or foreign city that you're exploring.
Check In With Work to Clear Your Mind – If you feel compelled to do so, send a quick message or make that call. A quick check-in can put your mind at ease and better enjoy the getaway.
Even with these tips, don't spend time working if it's not utterly necessary. It's appealing to get a jump on work while away, but not at the price of your trip. We already know that it's beneficial to ditch your phone while abroad and doing the same with work can only help you unwind. Along with that phone, it can help to forget the laptop or tablet at home.
Checking into the job may hinder your vacation even more, and may waste your entire day by trying to solve a work crisis. Obviously, you'll have to make some adjustments at first, but remember that you need to leave a few things at home to get the most out of your vacation.
One last tip: Keep in mind that a little proactive planning beforehand can go a long way. It may sound obvious, but the less time you spend working on your trip, the more time you'll have to relax and enjoy.
Looking for tips to stay healthy while on that trip? Have any questions about travel safety? Schedule an appointment with your local Passport Health clinic by calling or fill out a contact form and speak to a representative.
Written for Passport Health by Jerry Olsen. He has over 15 years of combined experience as a writer and editor in Salt Lake City. Jerry's writing topics range from health care, travel, life science to medical technology and technical writing.