Passports and Visas service is temporarily suspended
Due to COVID-19 and the health of our employees, we will not be accepting new applicants at this time.
What's the Tipping Etiquette When Traveling Abroad?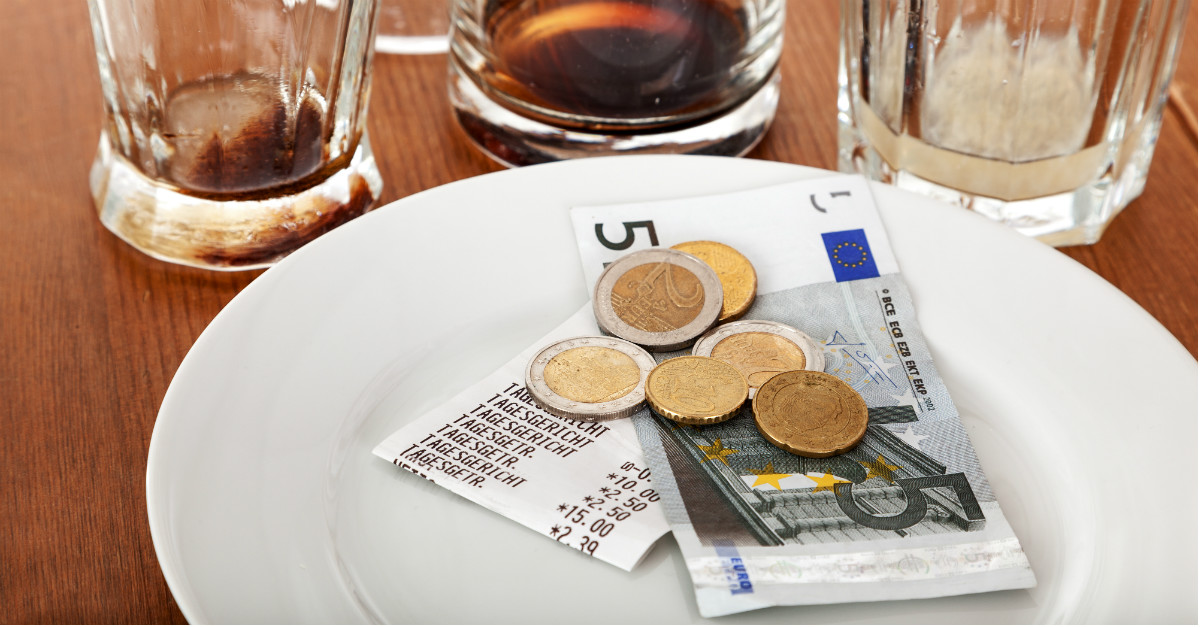 In the United States, tips (ranging from 15 to 20 percent of the total bill), are a necessity. Since most servers in the U.S. typically make less than the minimum wage, they expect to get a tip for their service.
While a 15 to 20 percent tip is needed in America for most situations, it may be considered out of character (or even rude) when abroad.
When visiting in a foreign country, it's a much different story. The circumstances dictate much different etiquette depending on the situation. The location may change who you should tip or how much.
If you are an experienced traveler, you may already know that a tip for your tour guide is required, regardless of your destination. But what's the right amount?
When calculating a tip for your dinner, should you include taxes and that pricey bottle of wine you ordered? Is it ever acceptable to not leave a tip?
Keep in mind, each country has their own customs when it comes to tipping. Places like China, Japan, Australia and Brazil often don't expect a gratuity. Many websites or visitor bureaus can help narrow down the country-specific standards.
We'll do our best to answer these common questions for confused travelers:
Who Should You Never Tip?
It may sound obvious, but you don't have to tip your doctor.
We all tip waiters and waitresses to supplement their low wages, but it isn't necessary to tip well-paid professionals that perform medical services like doctors, dentists and therapists. It's also not needed to tip your dry cleaner. In situations like this, you have already paid them for their service, and don't need to supplement your payment with a tip.
How Should You Tip at a Restaurant?
As a rule, your tip doesn't necessarily need to include the tax on your meal, but, you should include alcohol when tipping your server. Tip the bartender or sommelier (wine expert) if they are the ones who serve your drinks—as opposed to your server.
Are There Different Rules at Hotels and Bed-and-Breakfasts?
If you're unsure, you can leave a tip at your bedside before checking out. That way, the maid or housekeeper can pick it up. Or, the owner can collect the tip if they personally do the housekeeping.
Is it Necessary to Tip the Driver of Your Limo, Taxi or Airport Shuttle?
Always tip a shuttle driver. These drivers usually help with your bags and it's expected to provide $1 or $2 per bag. If the driver has to work a little harder (holding the shuttle or lifting an extra heavy bag), maybe tip a bit more.
When getting to the airport via limo or taxi, your usual tip for these drivers is fine. This will often be somewhere between 10 and 15 percent of total cost.
When Should You Tip the Bellhop/Bellman at a Hotel?
Depending how much the bellhop helps you, this can get complicated. Should the tip come when you've given your bags to the employee or when they return them to you later?
Tip the bellhop when they bring your bags back to you. As a rule, you don't need to be too extravagant—for example, $1 or $2 per bag is sufficient.
How About Tipping a Tour Guide?
It may depend on the length of your guided trip. A shorter bus tour may only require tipping 10-20 percent of the tour's total cost.
You can also tip bus drivers on a charter or sightseeing tour should also receive at least $1 per person for each day. Some of these tours may also offer a tip pool. In this case, each passenger is expected to contribute at least a dollar to the lot.
If on a smaller tour, with less than 20 people, it's customary to give $5-10 per person. A larger tour should require less, with $3-5 enough for each person on the trip.
During your trip, remember that cash is the easiest way to tip. Many workers won't have a system to tip via credit card.
Always keep a few $1 and $5 bills in your wallet for tipping purposes. Of course, you can always add gratuity on a credit card in any restaurant, it's also a good an idea to keep some "loose change" on you as well.
Do you need a passport or other travel documents before your next foreign trip? Passport Health can help! Call us at or check out any of our other passport and visa services.
Do you have any other advice for tipping abroad? Let us know via Facebook or Twitter.
Written for Passport Health by Jerry Olsen. He has over 15 years of combined experience as a writer and editor in Salt Lake City. Jerry's writing topics range from health care, travel, life science to medical technology and technical writing.