Passports and Visas service is temporarily suspended
Due to COVID-19 and the health of our employees, we will not be accepting new applicants at this time.
What's the Meaning Behind Passport Colors?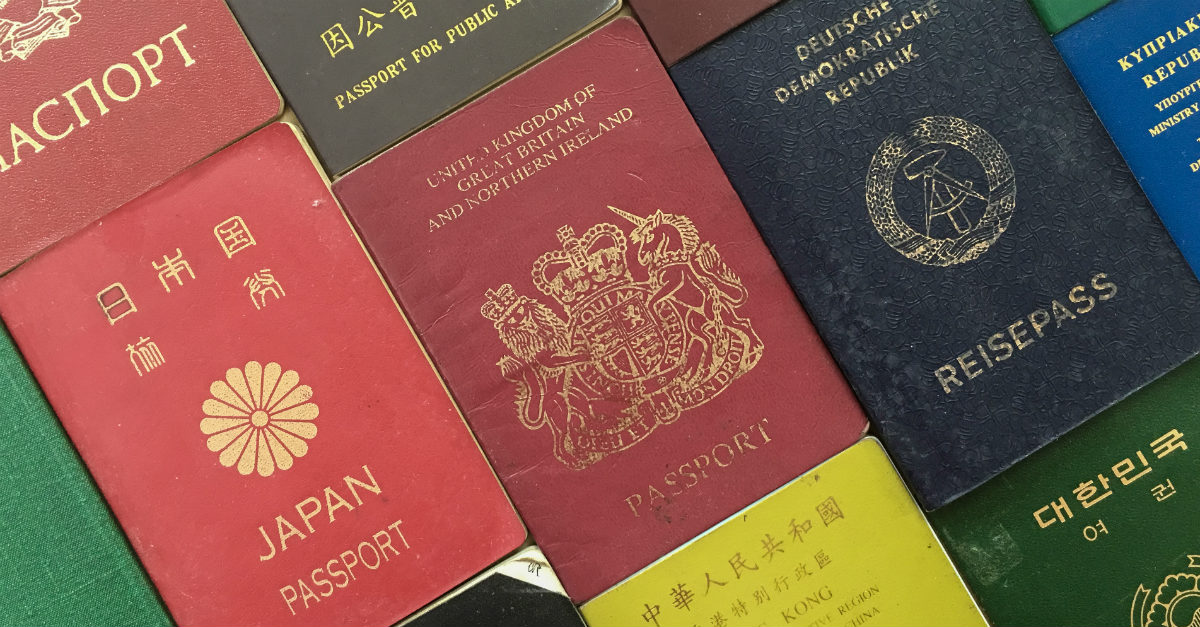 Most people need the break that comes with travel. And with that recess from daily life, they must decide on a mode of transportation for their trip.
Depending on your destination, traveling by car or by airplane are by far the most convenient. But, if that holiday takes you overseas, your destination could will almost definitely require a passport.
Did you know that the United States did not always require visitors to have a passport to enter the country?
From the time the U.S. was established until 1918, individuals from other countries did not need a passport to visit. During that span, the only time passports were required was during the Civil War and WWI.
The League of Nations standardized passports in 1920. At that time, the U.S. was not a member of the organization, but decided to adhere to the standards anyway. From this point, the U.S. passport started as a piece of paper, slightly bigger than a diploma. The paper then evolved, taking on the likeness of a small booklet with 28 pages and a green cover.
But, that color wasn't permanent.
In 1970, the color was changed to blue, then switched back to green in 1993 and back to blue in 1994. The U.S. passport has remained this color ever since.
Unfortunately, history doesn't tell us exactly why the U.S. State Department chose this color or why the passport colors changed over the years. Some people speculate that it was for political purposes and that blue resembles the "New World."
Blue passports are also common among Caribbean countries and U.S. Territories, like Guam, Puerto Rico, American Samoa and the U.S. Virgin Islands. Many South American countries also distribute passports with blue covers to their citizens.
Many Islamic countries choose green for religious purposes. It's believed that the color was the favorite of the Prophet Muhammad, with green representing nature. This is why you'll see the same colors on passports from Syria, Iran, Afghanistan and Morocco, among many others.
Besides blue and green, the other prominent colors of passports are red and black.
Maroon, or a deep reddish color, is the color of the passport for many countries that are members of the European Union. Switzerland is the exception to this rule. Although a member of the EU, the Swiss use a bright red passport that matches their national flag and symbolized the culture.
China issues a red diplomatic passport to the government official traveling abroad. In this case, it is believed that red represents the communist government. But, China's public passport for the general population has a black cover.
The Chinese government may also want to take advantage of artistic benefits that come with a black passport. The national insignia and official stamp of a country stand out better with passports that are in darker colors.
Some countries are beginning to add other identifying marks or sequences to their nation's passports. This is becoming more common because of the advances in modern technology.
Finland has incorporated the sequence of a running moose into their passport. As you turn the pages quickly, you can see the animal running like in a flipbook.
Other countries have introduced intricate artwork to their passport that's unique to the region.
As a vital form of identification, it will be interesting to see how passports will change in the coming years.
Are you in need of a passport for an upcoming trip? Passport Health can help! Call us at or check out any of our other passport and visa services.
Do you know of any other special passport facts from around the world? Let us know via Facebook or Twitter.
Written for Passport Health by Sabrina Cortes. Sabrina is a freelance writer with a Bachelor's Degree from Georgian Court University. She currently lives in the Smokey Mountains of western North Carolina.